The Society for Learning Analytics Research is proud to present a new series of Podcasts & Webinars for our growing community!
The new series is meant to create more spaces for our community to collaborate and share the work that is being done around the world and where we discuss some big ideas and trends in research and practice of learning analytics. Our podcasts and webinars will each be offered on a bi-monthly basis, so one month we'll release our new podcast episode and then the next month will be a new webinar. We hope you'll follow along and share your ideas and feedback with us!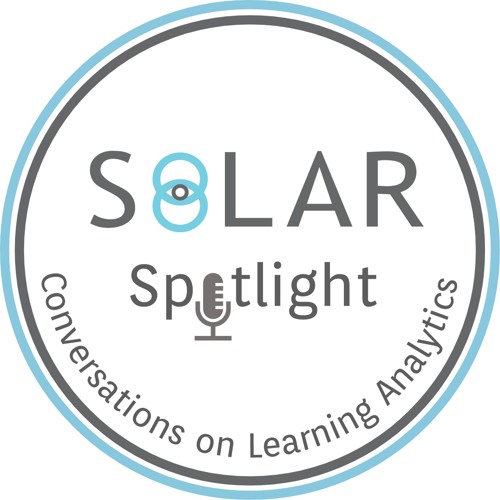 SoLAR Spotlight: Conversations on Learning Analytics
We are proud to present our new podcast titled, "SoLAR Spotlight: Conversations in Learning Analytics," which is now available on Soundcloud, iTunes and Spotify.
If you would like to share your thoughts on the content of our podcast or take a guess on the answer to the 'Two Truths and One Lie' game that we played in the podcast, please Tweet us @solaresearch using #solarspotlight.
Episode 1: Learning Analytics - Past, Present, and Future featuring Professor Abelardo Pardo (University of South Australia, Australia) and current SoLAR President.
Episode 2: Scaling Institutional Readiness featuring Prof Tinne De Laet (KU Leuven, Belgium) and Dr Julio Guerra Hollstein (Universidad Austral de Chile, Chile)
Episode 3: Giving a voice to stakeholders in Learning Analytics design featuring Ed de Quincey (Keele University, UK) and Kenneth Holstein (Carnegie Mellon University, USA)
Episode 4: The Learning Analytics and Knowledge Conference featuring Hendrik Drachsler (Goethe University, Germany), Nicole Hoover (SoLAR, USA), Vitomir Kovanovic (University of South Australia, AUS) and Grace Lynch (SoLAR, AUS)
Episode 5: Measuring Learning Analytics Impact featuring Bart Rienties (Open University, UK) and Linda Corrin (Swinburne University of Technology, Australia)
Episode 6: Privacy and Ethics in Learning Analytics featuring Paul Prinsloo (University of South Africa, South Africa) and Kirsty Kitto (University of Technology Sydney, Australia)
Episode 7: Diversity and Inclusion in Learning Analytics Research featuring Angela Stewart (University of Colorado Boulder, USA)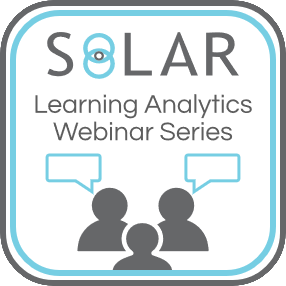 Webinars are 30-45 min online sessions (followed by Q&A with the audience) on some of the key issues in the field. They run once in every two months starting from August 2019. All webinars are organised through Zoom Web platform.
Webinar recordings are made available on our official Youtube channel.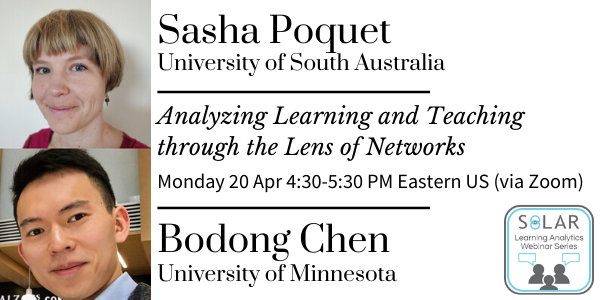 Webinar 5: Analyzing Learning and Teaching through the Lens of Networks with Sasha Poquet and Bodong Chen
Networks is a popular metaphor we use to make sense of the world. Networks provide a powerful way to think about a variety of phenomena from economic and political interdependencies among countries, interactions between humans in local communities, and to protein interactions in drug development. In education, networks give ways to describe human relationships, neural activities in brains, technology-mediated interactions, language development, discourse patterns, etc. The common use of networks to depict these phenomena is unsurprising given the variety of educational theories and approaches that are deeply committed to a networked view of learning. Compatible with this view, network analysis is applied as a method for understanding learning and connections involved in learning.
This webinar will explore the conceptual, methodological, and practical use of networks in learning analytics by presenting examples from real-world learning and teaching scenarios that cover the following areas. First, in learning analytics networks are a powerful tool to visually represent connections of all sorts in ways that are straightforward for humans to act upon. Second, network analysis offers a set of metrics that are useful for characterising and assessing various dimensions of learning. Third, the modelling of networks can help to develop explanatory theories about complex learning processes. We will present case studies in each area to demonstrate the utility of networks in learning analytics. By doing so, we argue for a wider conception of learning as a networked phenomenon and call for future learning analytics work in this area.
Dr Sasha Poquet is a researcher at the Centre for Change and Complexity in Learning (C3L), University of South Australia. Sasha uses learning analytics to understand learner networks form and how peers influence each other in digitally-mediated communication.
Dr Bodong Chen is an associate professor and Bonnie Westby Huebner Chair in Education and Technology at the University of Minnesota–Twin Cities. His research is focused on the design of digital environments and analytics for collaborative learning. At the University of Minnesota, he co-directs a newly formed Learning Informatics Lab and teaches Applied Network Analysis in Education and Learning Analytics.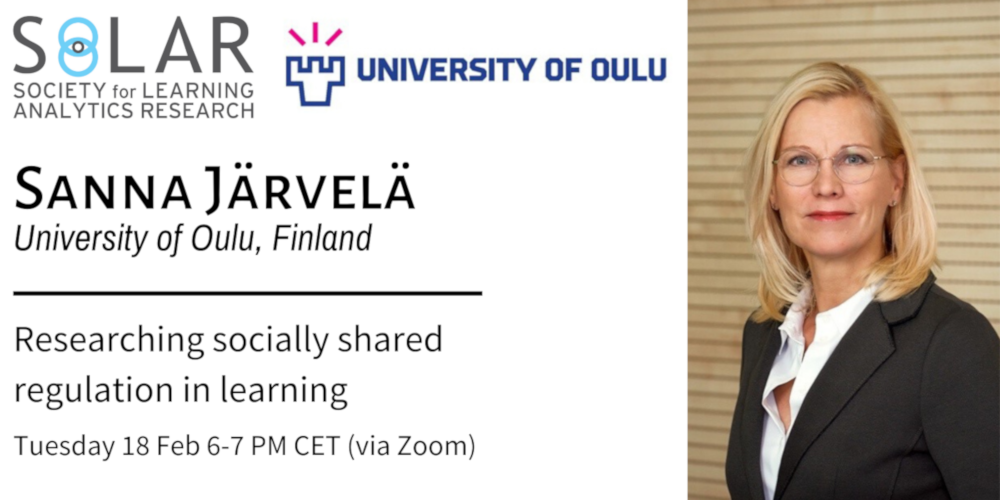 Webinar 4: Researching socially shared regulation in learning with Sanna Järvelä
Advanced learning technologies have contributed to progress in learning sciences research. There is growing interest in methodological developments using technological tools and multimodal methods for understanding learning processes (e.g. physiological measures). My research group has been working on collecting multimodal and multichannel data for understanding the complex process of collaborative learning. We have been especially interested in how groups, and individuals in groups, can be supported to engage in, sustain, and productively regulate collaborative processes for better learning. In this presentation, I will introduce the theoretical progress in understanding socially shared regulation (SSRL) in learning and review how we have been collecting, analyzing and triangulating data about the regulation in collaborative learning. I will discuss the current methodological challenges and opportunities learning analytics has helped us trace and model SSRL processes.
Dr Sanna Järvelä
is a professor in learning sciences and head of the Learning and Educational Technology Research Unit (LET) and director of the LeaF research infrastructure in the University of Oulu, Finland. Her main research interests deal with self-regulated learning, computer-supported collaborative learning and on-line learning processes. Järvelä and her research group are internationally recognized in theoretical and methodological advancement of social aspects of self-regulated learning (socially shared regulation in learning) and processes oriented and multimodal research methods. She has published more than 150 scientific papers in international refereed journals and about 50 book chapters and three edited books, and her
Google Scholar
h-index is 55. She has been editor in many journals (e.g. Learning and Instruction) and currently Chief Editor in the International Journal of Computer Supported Collaborative Learning. Järvelä is the member of the Finnish Academy of Science and Letters, the past EARLI (European Association for Research on Learning and Instruction) president and invited member of the expert group of the OECD's PISA 2024 'Learning in the Digital World'.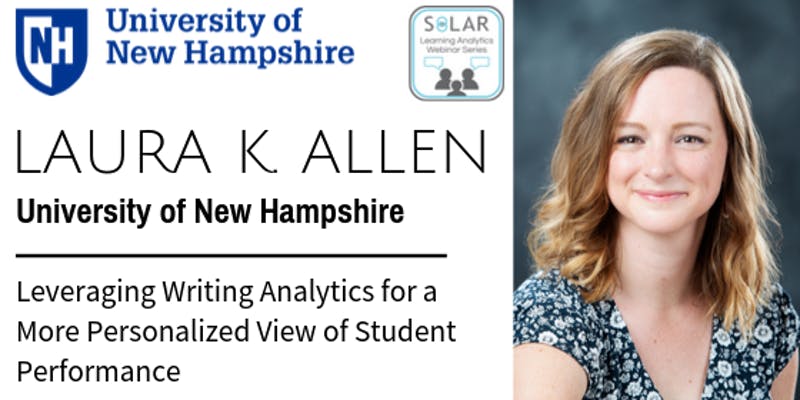 Webinar 3: Leveraging Writing Analytics for a More Personalized View of Student Performance
Researchers and educators have developed computer-based tools, such as automated writing evaluation (AWE) systems, to increase opportunities for students to produce natural language responses in a variety of contexts and subsequently to alleviate some of the pressures facing writing instructors due to growing class sizes. Although a wealth of research has been conducted to validate the accuracy of the scores provided by these systems, much less attention has been paid to the pedagogical and rhetorical elements of the systems that use these scores. In this webinar, I will provide an overview of case studies wherein writing analytics principles have been applied to educational data. I will provide an overview of multi-methodological approaches to writing analytics that rely on natural language processing techniques to investigate the properties of students' essays across multiple linguistic dimensions. This approach focuses on the notion that there are multiple linguistic dimensions of the texts that students produce. Some surface-level features relate to the characteristics of the words and sentences in texts and can alter the style of the essay, as well as influence its readability and perceived sophistication. Further, discourse-level features can be calculated that go beyond the words and sentences. These features reflect higher-level aspects of the writing such as the degree of narrativity in the essay. Webinar attendees will gain a sense of both the conceptual issues and practical concerns involved in developing and using writing analytics tools for the analysis of multi-dimensional natural language data.
Dr. Laura K. Allen is an Assistant Professor of Psychology at the University of New Hampshire. She earned a B.A. in English Literature and Foreign Languages from Mississippi State University (2010), followed by a M.A. (2015) and Ph.D. from Arizona State University (2017). The principal aim of Dr. Allen's research has been to theoretically and empirically investigate the higher-level cognitive skills that are required for successful text comprehension and production, as well as the ways in which performance in these domains can be enhanced through strategy instruction and training. This line of research has been accompanied by a second line of work that explores how educational technologies can be leveraged to facilitate learning. The overall goal of this research is to develop educational technologies and methodologies that will have a broad impact on current practices in writing research and instruction across multiple dimensions.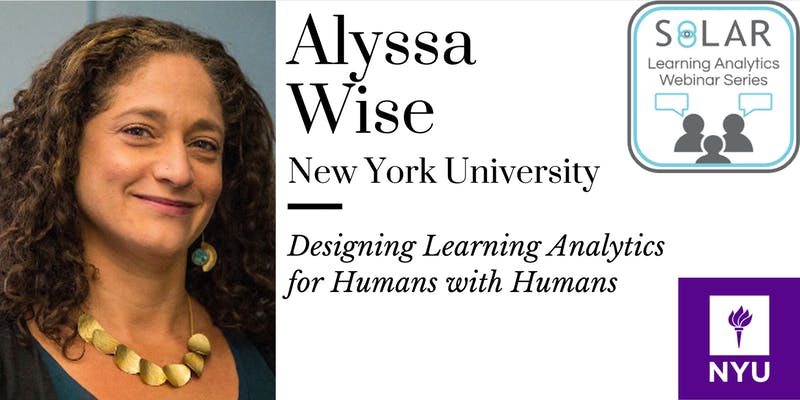 Learning analytics (LA) is a technology for enabling better decision-making by teachers, students, and other educational stakeholders by providing them with timely and actionable information about learning-in-process on an ongoing basis. To be effective LA tools must thus not only be technically robust but also designed to support use by real people. One powerful strategy for achieving this goal is to involve those who will (hopefully!) use the learning analytics in their design. This can be done by observing existing (pre-analytic) teaching and learning practices, gathering information from intended users, or directly engaging them in participatory design. Such attention to people and context contributes to the development of Human-Centered Learning Analytics (see the recent special section in JLA 6(2)).
In this webinar, I'll present a diverse set of examples of the ways that NYU's Learning Analytics Research Network (NYU-LEARN) is including educators and students in the process of building and implementing learning analytics. We'll look at examples of how to: involve students in the creation and revision of learning analytics solutions for their own use; work with instructors to align analytically available metrics with valued course pedagogy; and partner with an educational team to design and implement interventions based on at-risk students predictions. Webinar attendees will gain a sense of both the conceptual issues and practical concerns involved in designing learning analytics for humans with humans.
Dr. Alyssa Wise
is Associate Professor of Learning Sciences and Educational Technology at New York University and the Director of LEARN, NYU's pioneering university-wide 
Learning Analytics Research Network
. She holds a Ph.D. in Learning Sciences and an M.S. in Instructional Systems Technology from Indiana University and a B.S. in Chemistry from Yale University. Dr. Wise's research is situated at the intersection of learning and educational data sciences, focusing on the design of learning analytics systems that are theoretically grounded, computationally robust, and pedagogically useful for informing teaching and learning. Dr. Wise serves as Co-Editor-in-Chief of the Journal of Learning Analytics is a Co-Editor of the Handbook of Learning Analytics.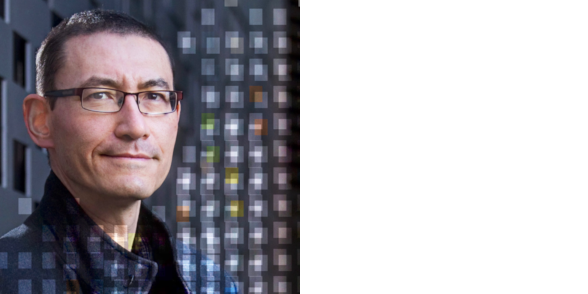 The emerging configuration of educational institutions, technologies, scientific practices, ethics policies and companies can be usefully framed as the emergence of a new "knowledge infrastructure" (Paul Edwards). The idea that we may be transitioning into significantly new ways of knowing – about learning and learners, teaching and teachers – is both exciting and daunting, because new knowledge infrastructures redefine roles and redistribute power, raising many important questions. What should we see when open the black box powering analytics? How do we empower all stakeholders to engage in the design process? Since digital infrastructure fades quickly into the background, how can researchers, educators and learners engage with it mindfully? This isn't just interesting to ponder academically: your school or university will be buying products that are being designed now. Or perhaps educational institutions should take control, building and sharing their own open source tools? How are universities accelerating the transition from analytics innovation to infrastructure? Speaking from the perspective of leading an institutional innovation centre in learning analytics, I hope that our experiences designing code, competencies and culture for learning analytics sheds helpful light on these questions.
Dr Simon Buckingham Shum
is Professor of Learning Informatics at the University of Technology Sydney, which he joined in August 2014 as inaugural director of the
Connected Intelligence Centre
. Prior to this, he was Professor of Learning Informatics and Associate Director (Technology) at the UK Open University's Knowledge Media Institute. He brings a background in Psychology, Ergonomics and Human-Computer Interaction, and a career-long fascination with making thinking visible using software. He co-founded the Compendium Institute to connect the international community using his team's Compendium visual hypermedia tool, used widely for Dialogue, Issue and Argument Mapping in both education and business. He co-edited Visualizing Argumentation (2003, with Kirschner & Carr) followed by Knowledge Cartography (2008, with Okada & Sherborne), and Constructing Knowledge Art (2015, with Selvin). He has been active in shaping the field of Learning Analytics since the inaugural LAK 2011 conference, serving as a Program Chair (2012/2018), convening many workshops to build emerging sub-communities in the field (Discourse Analytics; Dispositional Analytics; Writing Analytics), and is a regularly invited keynote speaker. He co-founded the Society for Learning Analytics Research, serving as a Vice-President, and continuing as an elected member of the Executive. 
http://Simon.BuckinghamShum.net