Introduction to Learning and Knowledge Analytics (COMP 683 Athabasca U)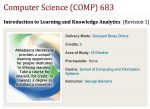 The growth of data overwhelms those who try to make sense of it. This concern is particularly evident in complex knowledge-intensive organizations. Learning institutions and corporations often don't pay attention to the data trails that learners create in the process of accessing learning materials, interacting with educators and peers, and creating new content. In an age where institutions are under growing pressure to adjust and adapt rapidly, learning and knowledge analytics hold opportunities for improved decision-making and planning at institutions levels.
Advances in knowledge modeling and representation, the semantic web, data mining, analytics, and open data form a foundation for new approaches of knowledge development and analysis. The technical complexity of this field is paralleled by a transition within schools and organizations to consider the full spectrum of learning (education, work place learning, informal learning) while transitioning to social and networked learning models. These technical, pedagogical, and social domains are amplified when they are considered in relation to one another – a foundational philosophy of this course.
Introduction to Learning and Knowledge Analytics 2011 is an overview course detailing the role of analytics in learning and knowledge development. Most of the topics do not require advanced statistical methods or technical skills.