University of Texas at Arlington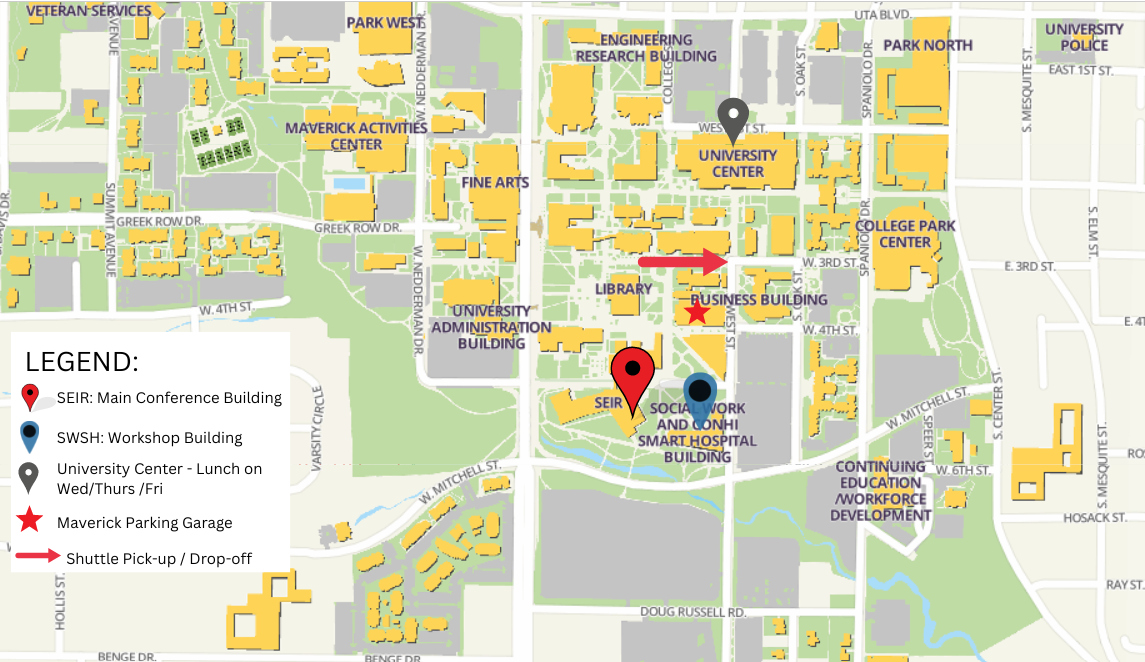 The above map showcases important places for LAK23.
SEIR - Main Conference Venue; Register here on Wednesday, Thursday or Friday and location of all concurrent sessions
SWSH - Workshop Building; Register here on Monday and Tuesday
University Center - Lunch location for Wednesday - Friday. Other eateries available as well during the week except Friday, these are at your own leisure and cost is not covered by the conference. Locations and hours listed below under University Center.
Maverick Parking Garage - Driving to campus? Park here for a daily rate of $13. Instructions below.
Shuttle Pick-up and Drop-off will take place at the corner of West Street and 3rd; Volunteers and Signage will direct you
Need more information about UTA and where things are located? Check out their interactive map here: https://www.uta.edu/maps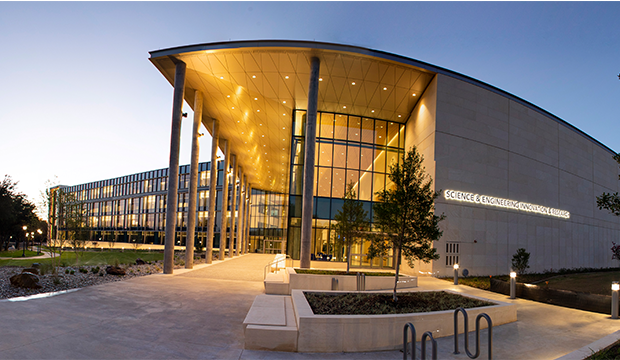 SEIR - Science & Engineering Innovation & Research Building - Main Conference Venue
The SEIR building will be our main conference venue. The following will take place in SEIR during LAK23:
Registration and conference organizers will be located in this building all five days of the conference.
All presentations for the main conference - paper presentations, panels, keynotes, etc. (Wednesday - Friday)
Poster & Demo Sessions
Coffee Breaks (Wednesday - Friday)
Continental Breakfast  (Wednesday - Friday)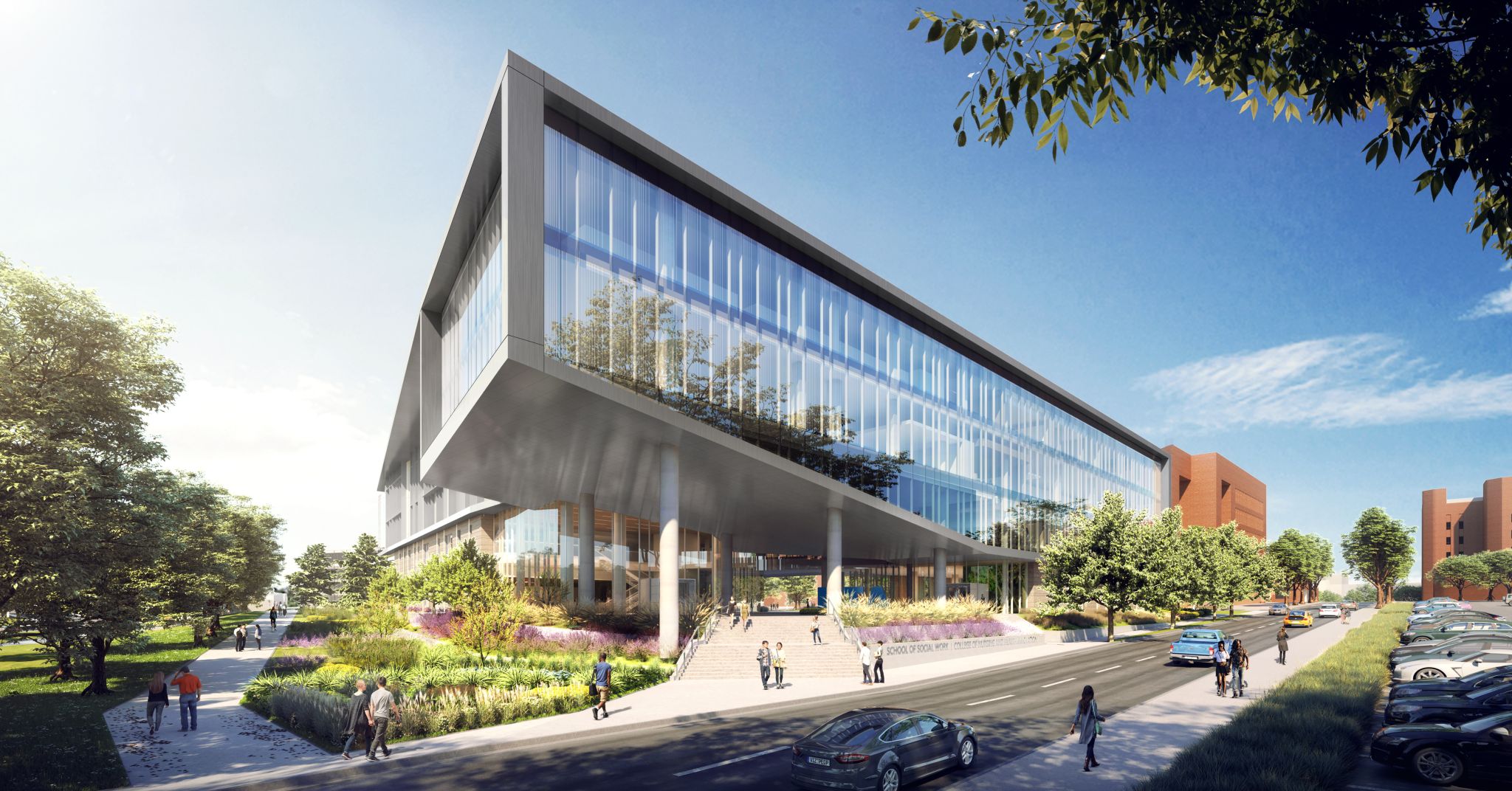 SWSH - School of Social Work and College of Nursing and Health Innovation Smart Hospital Building - LAK23 Workshop Building
The SWSH building will be our Pre-Conference Workshop Building. The following will take place in SWSH during LAK23:
All In-person pre-conference workshops on Monday and Tuesday
Coffee Breaks and Lunches on Monday and Tuesday
SoLAR Institutional Member Meeting
VIP Reception (Invite Only) on Tuesday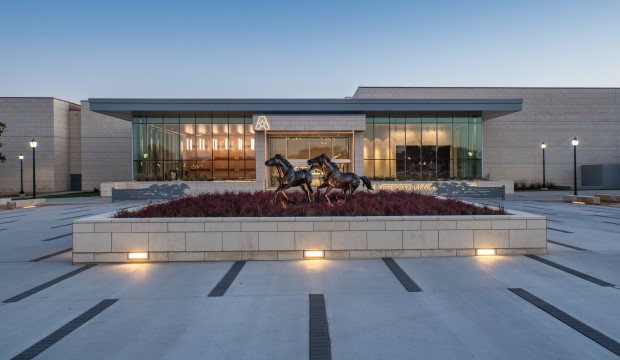 E.H. Hereford University Center (UC)
The UC will host lunch for LAK23 during the Main conference days, Wednesday, Thursday and Friday.
Lunch for LAK23 will take place in the Connection Cafe

Signage and LAK volunteers will direct you
The following will be open to the public in the UC during March 13 - 16, 2023
Starbucks - 8:00 AM to 2:00 PM
Subway - 11:00 AM to 2:00 PM
Market - 8:00 AM to 3:00 PM
All locations are closed on March 17, 2023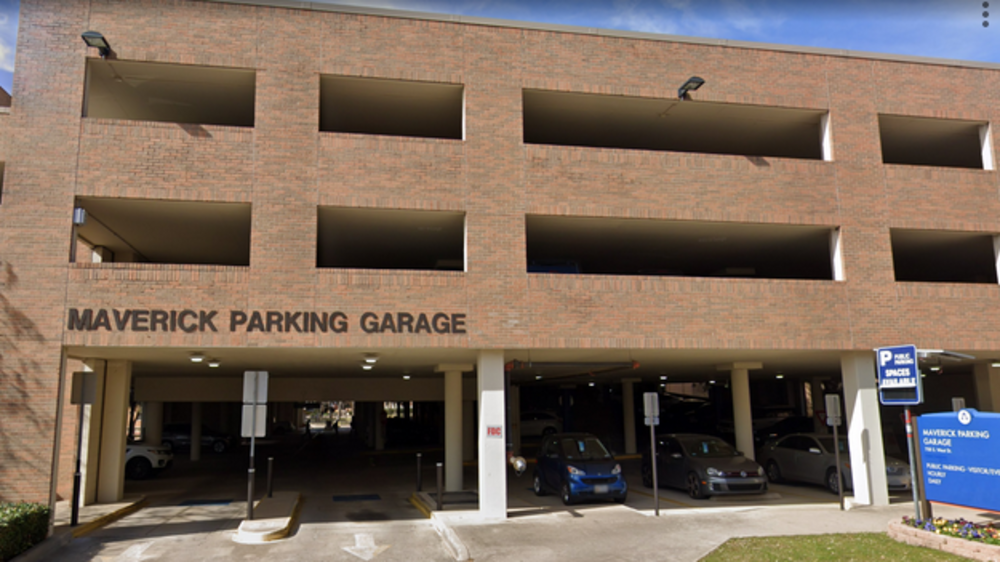 Maverick Parking Garage
Parking Information:
Attendees can pay in the garage via app(HonkMobile or Park Mobile,) physical meters on 1st floor or they can use the steps below to purchase a permit ahead of time.
Here are the steps to register for parking:
Follow the link https://utarlington.aimsparking.com/permits/?cmd=new_event
Select "Department-Hosted Event"
Select "LAK23 Conference"
Select the permit type "(EVT-FP) Maverick Garage (Daily)"
Select the active date(s)
Add vehicle info and confirm
Daily parking rate is $13.