September 17, 2016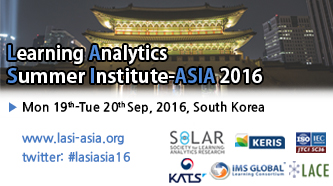 The LASI-Asia 2016 will run 19-20 September in Seoul. To share global experiences and outcomes with Asian people, major international organizations and stakeholders related to learning analytics participate in this event as organizers and sponsors. ISO/IEC JTC1 SC36 (Information Technology for Learning, Education, and Training) and IMS Global Learning Consortium will share their outcomes for reference model and learning data APIS for learning analytics, and the Learning Analytics Community Exchange (LACE) project – an initiative funded by the EU's FP7 programme – will share its research outcomes.
Keynote addresses from Dai Griffiths, Simon Buckingham Shum, Charles Severance and Rob Abel will give insights for global collaboration and envisioning learning analytics for the future. Also many case studies and research outcomes to realize learning analytics will be introduced in this conference and workshops. In particular, standardization communities, LACE project and SIG of SoLAR will get momentum and move forward for learning data APIs interoperability through collaboration from the LASI-Asia 2016.
Learn more on the LASI-Asia 2016 website: http://www.lasi-asia.org.