Final reminder to register for February 2023 Webinar
February 7, 2023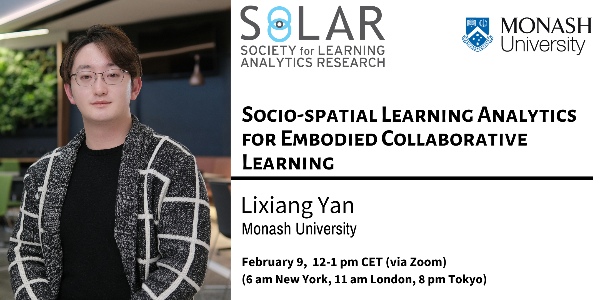 It is our pleasure to invite you to SoLAR Webinar "Socio-spatial Learning Analytics for Embodied Collaborative Learning" presented by Lixiang Yan from Monash University, recipient of the Best Paper Award at LAK22.
Time and date: February 9, 12-1pm CET (6am New York, 11am London, 8pm Tokyo)
Location: Zoom (meeting URL provided in the registration email)
We are looking forward to seeing you at the webinar! Make sure you follow SoLAR's Eventbrite page to get updates for the future events.
Abstract: Embodied collaborative learning (ECL) provides unique opportunities for students to practice key procedural and collaboration skills in co-located, physical learning spaces where they need to interact with others and utilise physical and digital resources to achieve a shared goal. Unpacking the socio-spatial aspects of ECL is essential for developing tools that can support students' collaboration and teachers' orchestration in increasingly complex, hybrid learning spaces. Advancements in multimodal learning analytics and wearable technologies are motivating emerging analytic approaches to tackle this challenge.
This presentation will introduce a conceptual and methodological framework of social-spatial learning analytics that map from social-spatial traces captured through wearable sensors to meaningful educational insights. The framework consists of five primary phases: foundations, feature engineering, analytic approaches, learning analytics, and educational insights. Two illustrative cases will be presented to demonstrate how the framework can support educational research and the formative assessment of students' learning. Finally, the opportunities and challenges regarding socio-spatial learning analytics are discussed.
Bio: Lixiang Yan is a final-year PhD candidate at the Centre for Learning Analytics at Monash University. He researches multimodal learning analytics, focusing on classroom orchestration and collaborative learning in physical learning spaces.