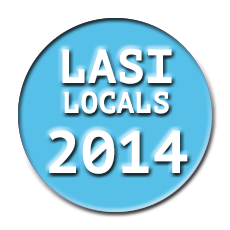 LASI-Locals & Global Online 2014

Just like last year, LASI 2014 will be not just one big gathering in one place, but a global network of online and face-face events.
How to join in…
The Learning Analytics Summer Institute in Harvard has limited capacity — the global demand and collective creativity far exceeds that, so there are many ways to engage…
The Summer Institute in Harvard has limited capacity and not everyone can get there, but fear not! There are many ways to engage…
Sessions from Harvard will be live-streamed and replayable — see below for details on streaming
Create a LASI-Local for your community, and track news and views in the Community space. Gatherings currently being planned include:
Blog your reflections on LASI and contribute to the LASI-Blog Aggregator
Share your photos: upload to Flickr, tag them lasi2014, ensure they're set as public, will show in public searches, and we'd encourage a Creative Commons license. They'll then display in the LASI-Blog Aggregator
Twitter: #lasi2014
Combine remote viewing of Harvard sessions with whatever meets the needs of your context, with you feeding back to the network what's unfolding in your part of the world. We anticipate these may cover the whole range from 100% online, to 50/50 blended, to 100% f-f. They may scale from nations/regions/states, to a small group in your institution translating the big ideas into practical implications. It may be a small discussion group, to an event with your own speakers, agenda-setting workshops, hands-on tutorials and panels. So think glocal, and think about the mix that will work for you and your community.
This is a fantastic platform for you to take a leadership role within your own organisation, institution, state, country or region, and catalyse educators, technologists, researchers, enterprise and policymakers around the urgency of designing the next generation of learning infrastructures.
If you are interested in running a regional/local event, please contact Simon Buckingham Shum <s.buckingham.shum atsign gmail.com> with the subject line containing: LASI Local and join the Google Community where LASI-Local organisers are networking.
Livestream and replays from Harvard
Harvard is using Livestream video technology — which supports quite a few platforms — see the app download links at foot of http://new.livestream.com/watch
With an up-to-date browser you should find that you can watch any of their events with relatively little trouble, but do check of course on the machine you plan to use. e.g. Grammys 2013 | Basic setup | Required plugins