Associate Professor in Learning Technologies
May 28, 2020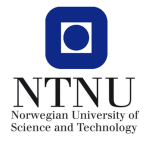 Website NTNUnorway The Norwegian University of Science and Technology (NTNU)
About the position
We have a vacancy for an associate professor at the Department of Computer Science (IDI). The position is in the area of learning technologies.
This is what you will be a part of:
Our new colleague shall be responsible for developing internationally recognized fundamental and applied research activities within the areas of design and development of innovative learning systems. Special consideration will be given to applicants specializing in the related fields of learning analytics, educational software for supporting learning at scale, development of educational games and robots, and computer-supported collaborative learning (CSCL).
Learning technologies research at the Department of Computer Science of NTNU covers many subfields, e.g., learning analytics, game-based learning, CSCL, educational software for supporting learning at scale, wearable devices and interfaces for learning and technology-enhanced programming educationMany of our research projects are conducted using empirical methods, ranging from quantitative controlled laboratory experimentation to field observation using qualitative methods.
Our scientific work is regularly published on venues of the highest caliber in the area of learning technologies. Most of our research projects are funded from prestigious and highly-competitive funding agencies (e.g., European Commission, The Norwegian Research Council) and in collaboration with the public sector and the industry.
You will report to the head of department.
Duties of the position
Teaching Bachelor level CS, Software Engineering courses and Master level learning technologies courses (typical course-load is 2 courses per year)
Carrying out international level research in the related fields
Acquiring research grants and other external funding from the Research Council of Norway, Nordic and European research and educational agencies, relevant industry, and other available sources
Supervising PhD and Master students
Establishing strong research collaboration with industrial and public sector
Providing service to the Department and University
The candidate is expected to participate and lead the further development of this research field in cooperation with existing staff in order to build a world-leading team at NTNU
Required selection criteria
The position of Assistant Professor within learning technologies requires that you meet the criteria in the Regulations concerning appointment and promotion to teaching and research posts section 1-4. 
Your PhD, or academic work of the same scope and quality, must be within learning technologies (or equivalent)
Excellent english skills both written and oral
Experience of teaching relevant Bachelor and/or Master level courses
Strong emphasis will be placed on publication of research results in recognized international journals within the subject area. Particular focus is placed on academic work during the past five years, exclusive statutory leave.
Successful candidate will need to have high quality publications, solid experience of teaching relevant courses, experience of supervising students, and strong industrial and academic network
You must document relevant basic competence for teaching and supervision at university/higher education-level, ref. Regulations. If this cannot be documented, you are required to complete an approved course in university teaching within two years of commencement. NTNU offers qualifying courses.
It is a prerequisite that within three years of appointment, new employees who do not speak a Scandinavian language can demonstrate skills in Norwegian or another Scandinavian language equivalent to level three in the course for Norwegian for speakers of other languages at the Department of Language and Literature at NTNU.
Please see the Regulations concerning appointment and promotion to teaching and research posts for general criteria for the position.
Preferred selection criteria
Applicants with teaching experience from higher education will be preferred
First author for at least 5 recent (during the last 5 years) publications in top relevant venues (e.g., Computers & Education, IEEE Transactions on Learning Technologies, UMUAI, IJ. CSCL, LAK, IDC, CHI);
Active involvement in the respective international research community
Record of grant applications
Industrial and academic network
Personal characteristics
Independent
Result-oriented
Collaborative
Good relationship with students
Creative
Strong motivation to contribute to good working and social environment
In the assessment of the best qualified applicant, we will emphasize education, experience and personal suitability as well as your motivation for the position
We offer 
Salary and conditions
In a position as Associate Professor (code 1011) you will normally be remunerated from gross NOK 640 200,-  per year, depending on qualifications and seniority. From the salary, 2% is deducted as a contribution to the Norwegian Public Service Pension Fund.
The engagement is to be made in accordance with the regulations in force concerning State Employees and Civil Servants, and the acts relating to Control of the Export of Strategic Goods, Services and Technology. Candidates who by assessment of the application and attachment are seen to conflict with the criteria in the latter law will be prohibited from recruitment to NTNU. After the appointment, you must assume that there may be changes in the area of work.
It is a prerequisite that you can be present at and accessible to the institution daily.
Application Process
You can find more information about working at NTNU and the application process here.
About the application
The application and supporting documentation must be in English.
Please note that applications are only evaluated based on the information available on the application deadline.  You should ensure that your application shows clearly how your skills and experience meet the criteria which are set out above.
If, for any reason, you have taken a career break or have had an atypical career and wish to disclose this in your application, the selection committee will take this into account, recognizing that the quantity of your research may be reduced as a result.
The application must include:
CV, certificates and diplomas
Academic works – published or unpublished – that you would like to be considered in the assessment (up to 10 works)
A description of the academic/artistic works that you regard as most relevant and that you particularly want to be considered in the assessment
Name and address of three referees
Research plan, maximum three pages
Details of teaching qualifications based on "Documentation of applicant's teaching qualifications in connection with appointment to an academic position at NTNU"
Details of the projects you have managed, with information about funding, duration and size
Joint works will be considered. If it is difficult to identify your contribution to joint works, you must attach a brief description of your participation.
In the assessment of the best-qualified applicant, we will emphasize education, experience and personal suitability as well as your motivation for the position. You will be expected to deliver high-quality teaching at undergraduate and postgraduate levels, and undertake supervision of Masters and Doctoral candidates. Evaluation of these skills will be based on documented experience and relevant teaching qualifications. Applicants with teaching experience at university level are preferred. Quality and breadth of the teaching qualifications will be evaluated.
NTNU is committed to following evaluation criteria for research quality according to The San Francisco Declaration on Research Assessment – DORA. This means that we pay special attention to the quality and professional breadth of these works. We also consider experience from research management and participation in research projects. We place great emphasis on your scientific work from the last five years.
Your application will be considered by an expert committee and the most suitable applicants will be invited to interview and to deliver a lecture.
General information
A good working environment is characterized by diversity. We encourage qualified candidates to apply, regardless of their gender, functional capacity or cultural background. NTNU wishes to increase the proportion of women in its academic positions, and women are therefore encouraged to apply.
The position is resident at NTNUs campus in Trondheim
The city of Trondheim is a modern European city with a rich cultural scene. Trondheim is the innovation capital of Norway with a population of 200,000. The Norwegian welfare state, including healthcare, schools, kindergartens and overall equality, is probably the best of its kind in the world. Professional subsidized day-care for children is easily available. Furthermore, Trondheim offers great opportunities for education (including international schools) and possibilities to enjoy nature, culture and family life and has low crime rates and clean air quality.
As an employee at NTNU, you must at all times adhere to the changes that the development in the subject entails and the organizational changes that are adopted.
Under the Freedom of Information Act (offentleglova), your name, age, position and municipality may be made public even if you have requested not to have your name entered on the list of applicants.
If you have any questions about the position, please contact Professor Michail Giannakos, e-mail michailg@ntnu.no, or the Head of the Department Professor John Krogstie, e-mail: john.krogstie@ntnu.no.
If you have any questions about the recruitment process, please contact our HR-recruitment team at the faculty: guro.paaske@ntnu.no
Please submit your application and supporting documentation via jobbnorge.no. If you are invited for interview, you must bring certified copies of certificates and diplomas.
Application deadline: 15.08.2020
NTNU – knowledge for a better world
The Norwegian University of Science and Technology (NTNU) creates knowledge for a better world and solutions that can change everyday life.
Department of Computer Science 
We are the leading academic IT environment in Norway, and offer a wide range of theoretical and applied IT programmes of study at all levels. Our subject areas include hardware, algorithms, visual computing, AI, databases, software engineering, information systems, learning technology, HCI, CSCW, IT operations and applied data processing. The Department has groups in both Trondheim and Gjøvik. The Department of Computer Science is one of seven departments in the Faculty of Information Technology and Electrical Engineering .
Deadline 15th August 2020
Employer NTNU – Norwegian University of Science and Technology
Municipality Trondheim
Scope Fulltime
Duration Permanent
Place of service Campus Gløshaugen