Data Analytics Full-time Lecturer
October 28, 2022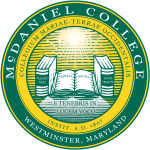 Website McDaniel College
About McDaniel College:
McDaniel College, recognized nationally among "Colleges that Change Lives" and U.S. News and World Report top-tier liberal arts colleges, is a four-year private college of the liberal arts and sciences offering more than 60 undergraduate programs of study, including dual and student-designed majors, plus 20 highly regarded graduate programs. At McDaniel College we value our employees by offering our full-time employees tuition remission, 403B retirement accounts, paid time off, medical insurance, flexible spending accounts, life insurance, and paid maternity and parental leave. Visit College website for details.
Job Description:
The Graduate and Professional Studies division at McDaniel College invites applications for a lecturer position in Data Analytics.
The position requires individuals to teach and develop courses for the graduate Data Analytics program in the areas of Data Mining, Data Preparation, Database, and other core courses in the program. The successful candidate will be expected to work collaboratively with graduate and undergraduate colleagues to develop and grow programs in data science and related fields, mentor graduate students, and provide service to the college and the profession. Faculty at McDaniel are encouraged to build strong industry relations to further high impact business and industry research. The successful candidate will contribute to the goals of the Graduate and Professional Studies division and the College mission. The program is interested in candidates that are highly collaborative and collegial with a strong commitment to building a portfolio of graduate and undergraduate programs in data science and related areas.
Requirements:
MINIMUM QUALIFICATIONS:
Ph.D. in Data Analytics, Computer Science, Computational Science, Data Engineering or other closely related field is preferred.  Strong candidates with a master's degree and industry experience who are currently enrolled in a doctoral program will be considered.
Experience teaching
Ability and willingness to provide excellent service and to work in a collegial manner with students, faculty, and staff, and other constituencies in a diverse environment.
DESIRED / PREFERRED QUALIFICATIONS:
Experience teaching online and graduate students.
Candidates should have a strong commitment to teaching excellence.
Experience in curriculum development.
Experience with students' academic advising.
Experience in serving on various department, college or university committees.
Active participation in professional activities and organizations.
Demonstrated ability to communicate and work effectively with diverse campus community.
Additional Information:
McDaniel College, an equal opportunity employer, does not discriminate in the recruitment, admission, and employment of students, faculty, and staff in the operation of any of its educational programs and activities. McDaniel College will not tolerate any discrimination or harassment on basis of any protected status including race, religion, color, national origin, disability, age, sex, sexual orientation, gender identity, pregnancy, military status, genetic information, marital status, veteran's status or any other legally protected status. For more information on the College's commitment to diversity, equity and inclusion, please visit https://www.mcdaniel.edu/about-us/diversity-equity-inclusion.

Application Instructions:
To apply, visit https://employment.mcdaniel.edu.  Applications must be submitted via this online process to be considered.  Applications must include a single attachment that contains the following in the order presented (pdfs are preferred).
Letter of interest
Curriculum Vitae
Statement of teaching philosophy (including philosophy of teaching a diverse student body)
Teaching portfolio (Sample syllabi and materials)
At the time of application, letters of reference are encouraged but not required.  All complete applications with or without reference letters will be reviewed.  For candidates who are short-listed for phone interviews, three letters of references will then be solicited.  To submit letters of reference at the time of application, please arrange for one to three letters to be sent to Provost@McDaniel.edu.