Postdoctoral Fellows in 3 research areas in AI in education
April 21, 2022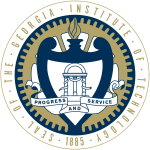 Website Georgia Institute of Technology
The National Artificial Intelligence Research Institute for Adult Learning and Online Education (AI-ALOE) invites applications for multiple postdoctoral research scientist positions in AI. We specifically invite applications in three research areas in AI in education: (1) Virtual teaching and learning assistants, (2) Human-AI communication and collaboration, (3) Educational datamining and learning analytics.
Funded by NSF and headquartered at Georgia Tech,  AI-ALOE aims to leverage AI technologies for transforming adult education in effectiveness, efficiency, scale, and personalization,  thereby making it more available, achievable. and equitable. The hiring of the postdoctoral fellows will be through Georgia Tech's Institute for Data Engineering and Science (IDEAS) and the fellows will report to Professor Ashok Goel, the Executive Director of the AI-ALOE Institute. The initial appointment will be for two to three years, renewable for additional years, with very competitive salaries.
Job Summary:
The postdoctoral research scientists will be expected to perform independent research that primarily focuses on designing, developing, deploying, and evaluating AI techniques and agents for adult online education. Current research themes include intelligent tutors, virtual assistants, smart textbooks, adaptive and personalized learning, self-directed learning,  machine teaching, and theory of mind. The positions require work in a team. The postdoctoral fellows will have opportunities to collaborate with researchers and scientists within Georgia Tech as well as AI-ALOE partner institutions. The fellows may also be expected to help manage and advise graduate and undergraduate students. Hybrid or remote work options are available.
Required Qualifications:
Ph.D. in Computer Science, Information Technology, Human-Computer Interaction, or related discipline.
Preferred Qualifications:  
A strong background in artificial intelligence. 
Knowledge, skills and abilities in computing technology, including programing (Java, Python) and software development (AWS, GIT).  
Experience in deployment and evaluation of AI technologies.  
Experience in data analysis. 
How to Apply:  
Application should be submitted online and it should include the following
A cover letter
Curriculum vitae
One-page research statement
One-page dissertation abstract
Names and contact information for at least three references
All applications may be directed to Professor Ashok Goel (goel@cc.gatech.edu). Review of application will begin immediately, and the search will continue until all the positions are filled. A Ph.D. is required by the start of appointment and a background check must be completed prior to employment.
Georgia Tech: 
Georgia Institute of Technology is a top-ranked public research university situated in the heart of Atlanta, a diverse and vibrant city with great economic and cultural strengths. Georgia Tech is a member of the University System of Georgia, the Georgia Research Alliance, and the Association of American Universities. Georgia Tech prides itself on its technological resources, collaborations, high-quality student body, and its commitment to diversity, equity, and inclusion. Georgia Tech has policies to promote a healthy work-life balance.