As emphasised in the LASI-13 announcement of the Summer Institute at Stanford University, a single event of this sort can only cater for 100 people — the global demand and collective creativity far exceeds those few!…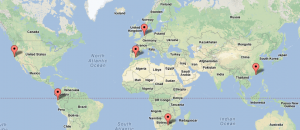 LASI is a week of online and f-f events around the world. Morning lectures from Stanford will be live-streamed, enabling not just remote attendance, but regional Institutes and local events running in parallel. Currently there are events planned in Europe and Latin America, with others under consideration. Combine remote viewing of Stanford sessions with your own keynotes, agenda-setting workshops, hands-on tutorials and debates — whatever meets the needs of your context, with you feeding back to the network what's unfolding in your part of the world. We anticipate these may cover the whole range from 100% online, to 50/50 blended, to 100% f-f. They may scale from nations/regions/states, to a small group in your institution translating the big ideas into practical implications. So think glocal, and think about the mix that will work for you and your community.
This is a fantastic platform for you to take a leadership role within your own organisation, institution, state, country or region, and catalyse educators, technologists, researchers, enterprise and policymakers around the urgency of designing the next generation of learning infrastructures.
LASI-Local organisers are networking to share ideas, resources, and as it unfolds, the fruits of your activities next July.
If you are interested in joining the google group to run a regional/local event, please contact Simon Buckingham Shum <s.buckingham.shum atsign gmail.com> with the subject line containing: LASI Local
Track developments on twitter via #lasi13local
Replaying LASI Stanford webcasts
To help you plan when your timezone might replay a Stanford session: Replay of a live stream session from Stanford will be available as soon as the event is over. [