LAK'17 Practitioner Track Proceedings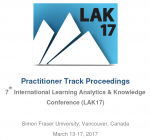 Practitioners spearhead a significant portion of learning analytics, relying on implementation and experimentation rather than on traditional academic research. Both approaches help to improve the state of the art. The LAK conference has created a practitioner track for submissions, which first ran in 2015 as an alternative to the researcher track.
Papers accepted in 2017 fell into two categories. Both types of paper are included in these proceedings.
Practitioner Presentation: Presentation sessions are designed to focus on deployment of a single learning analytics tool or initiative. Topics can range from single implementations of learning analytics tools / initiatives up to the deployment of cross functional systems or larger projects that have been rolled out at scale.
Technology Showcase: The Technology Showcase event is designed to enable practitioners to demonstrate new and emerging learning analytics technologies that they are piloting or deploying.