Learning and Knowledge Analytics Course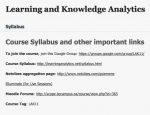 Starting January 2011, this open course was offered to support the Learning and Knowledge Analytics 2011 Conference.
The course was facilitated by George Siemens (TEKRI, Athabasca University), Jon Dron (SCIS, Athabasca University), Dave Cormier (University of Prince Edward Island), Tanya Elias (Athabasa University), and Sylvia Currie (BCcampus).
The syllabus, archives, and other resources are open and available.