Lea's Learning Analytics Summer Camp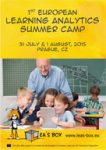 The Lea's Box project  Learning Analytics Summer Camp was held in Prague on 1 July and 31 August 2015.
The summer camp is based on an in-depth presentation of the projects and research directions and the search for a common ground and alignment of common strengths. This event is not so much a mere exchange of knowledge and solutions, but much more a joint effort to bring all that we have in the pockets to a concrete and broad application in the European educational landscape. Essentially, the major aim of the summer camp is to find joint solutions to the 'impact' we are expected to make. We believe that streamlining our expertise and already existing solutions can bring us a big leap forward. This is not trivial however, since it requires a team that is big enough to comprise major knowledge and a team that is small enough to be able to really accomplish our ambitious, but so important goal. Together we can form a team that is strong enough to accomplish this.